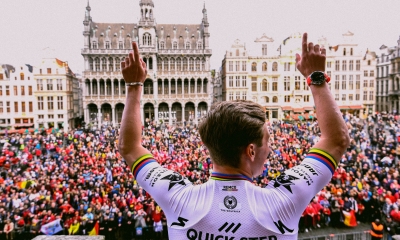 This Thursday, we're facing West Ham United FC at the Lotto Park for the third game of the UEFA Europa Conference League. A European duel with a special history. In 1976, our club won the UEFA Cup Winners' Cup against West Ham. A first European trophy in the glorious history of Royal Sporting Club Anderlecht. 
West Ham legends & Remco
Therefore, the club will pay tribute to the players that won the European cup in 1976* with a celebration before the game. At the fanshop, there will be a unique scarf available as well.
And there's more. Our very own world champion and La Vuelta-winner Remco Evenepoel will also be celebrated before kick-off. Remco, who played for RSC Anderlecht in his teenage years and remains a life-long fan of the club, will also be honoured on the pitch before kick-off. 
As we have to take into account the UEFA protocols, the two celebrations

will start at 6:30 PM, 15 minutes before kick-off.

So be sure to take your seats at the stadium in time to pay tribute to both past heroes and Belgium's rising star of cycling. 
Parkings & public transport
The Lotto Park can be reached by public transport via metro station Sint-Guido/Saint-Guidon. To ensure smooth mobility around the stadium on a weeknight, an agreement has been reached with Westland Shopping. Supporters will be able to park at Westland Shopping from 5.30pm onwards. Before, the car park will not be accessible due to the opening hours of the shopping centre. 

Supporters can also park at Interparking Bordet at Erasmus Hospital (Mijlenmeersstraat, 1070 Anderlecht) and then take the metro to the stadium (metro line 5 towards Herrmann-Debroux, get off at Sint-Guido/Saint-Guidon). The P&R COOVI/CERIA car park (Josse Leemanslaan 110, 1070 Anderlecht) is also a good option to park your car and then continue your journey by metro. The Decathlon car park is not available.
All practical info can be found at rsca.be/WestHam.
* Arie Haan, Jean Thissen, Peter Ressel, Michel De Groote and Michel Lomme have confirmed their attendance. Frankie Vercauteren and Hugo Broos reside abroad and unable to attend, as will Jacky Munaron, Gilbert van Binst and Jan Ruiter. RSCA will of course also pay tribute to the deceased heroes such as Rob Rensenbrink, François Van der Elst, Jean Dockx, Ludo Coeck and former coach Hans Croon.