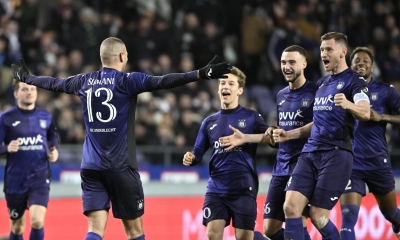 Winter acquisition Islam Slimani scored five goals in six JPL matches. Remarkably, he scored all his goals at home at Lotto Park. This puts him at an average of one goal every 36 minutes of playing time at Lotto Park.

The Algerian accounted for nine of the 18 goal attempts against Cercle. Only two other players from the Jupiler Pro League also took nine shots on goal this season. Fábio Silva for RSCA in September, and Victor Boniface for Union in February.

It was already the third time RSCA shot nine times or more towards goal this calendar year. Before the winter break, it did not happen a single time. "If you don't shoot, you don't score," Brian Riemer said in MAUVE.

"Islam Slimani adds a lot to the team. I understand why opponents are scared of him. At training, you notice how difficult it is to play against him." (Killian Sardella - Sud Info)

 


"Every coach wants a striker like Islam. He weighs on a defence, snaps up his defensive work and also sets an example for the young guys at training." (Brian Riemer - Het Nieuwsblad)

 

 

"I am satisfied with the match, even if we were able to finish it earlier on. We also kept the zero at the back, which is always positive." (Jan Vertonghen - L'Avenir)