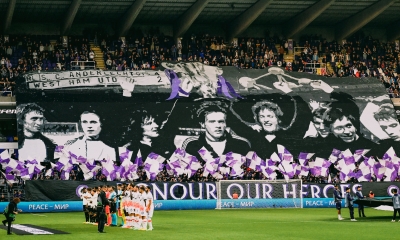 Thursday night's UEFA Europa Conference League match against West Ham United was preceded by some particularly touching moments. The players who won the first European trophy in 1976 for our club were celebrated. On top of that, world champion and winner of the Tour of Spain Remco Evenepoel, received a standing ovation from our fans.
Jean Thissen, Arie Haan, Michel De Groote, Peter Ressel, Erwin Vandendaele and Michel Lomme were present at the Lotto Park and were greeted by a wonderful tifo from our supporters. The deceased players of the team and from 1976 and the players who could not be there were also honoured on the screens and on the tifo. RSC Anderlecht would like to sincerely thank its fans for their warm welcome.
These legendary ambassadors of the club will always be at home at RSC Anderlecht. See you soon.
Discover some more pictures of these beautiful moments at the Lotto Park below.