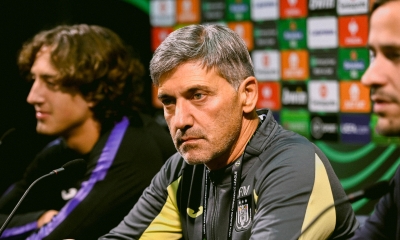 On the evening before the game against West Ham, Felice Mazzù and Fábio Silva looked ahead at the return match against West Ham United at their London Stadium. At home, Sporting lost 0-1, but Fábio Silva kept a good feeling about the match.
"Despite the loss, I think we played well. We needed to continue like that in the league to boost our confidence. That's why the win against KV Mechelen was so important. We are Anderlecht, we always have to win."
Coach Mazzù also stressed the importance of last weekend's win. "We have to remember what was positive of the second half, and build on that mentality. Going through in the Conference League would also mean that we have more matches and could therefore give more players minutes."
The coach saw some names drop out for travel to London. Marco Kana, Majeed Ashimeru, Julien Duranville and Lior Refaelov are not fit. Jan Vertonghen is back after his illness, though it remains to be seen whether he will start Thursday's game. "Jan was very tired after his illness, I don't think he will be able to start both games this week," Mazzù told the reporters. 
Two RSCA Futures will see their good form rewarded:  Théo Leoni and Lucas Stassin get to add another selection to their name. "It is only positive for the RSCA Futures that we can give players their chance at the right time," he said.
Fábio Silva, who managed to find the nets again last weekend, almost scored in the first game against West Ham. "And yet I am happy with my run, and the fact that I was able to win the duel from the two central defenders. That's an aspect of my game I've improved."
With Wolves, Fábio did already manage to score against West Ham. Whether he feels extra pressure now that he is back in England? "Absolutely not. I'm doing what I love, I love this team and this staff. I get to play football, while people in Ukraine have a war to fear. They feel pressure, I don't."
"I do what the coach asks of me, and play how and where he wants me to play," Silva concluded. To which the coach: "Tomorrow maybe on the left?" The answer tomorrow at 9pm Belgian time.