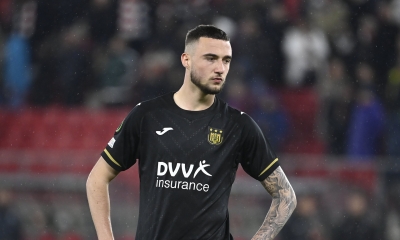 An important week for Sporting. On Thursday night, it travelled to the far north in the Netherlands, where it faced AZ Alkmaar in the second quarter-final match of the UEFA Europa Conference League. Yari Verschaeren got on the bus, albeit injured, Benito Raman remained at Neerpede. At AZ, RSCA defended a 2-0 lead but soon saw it nullified. The dream of a European semi-final shattered after penalty kicks.
The Mauves started the game dramatically. On the first offensive action, Amir Murillo committed an unfortunate foul on the edge of the sixteen, penalty for AZ. That was faultlessly converted by Vangelis Pavlidis, allowing AZ to mitigate their deficit after only two minutes. And that deficit was completely wiped out after the same Vangelis Pavlidis was able to easily tap in the 2-0 after less than 15 minutes of play, on a pass from Jens Odgaard. The Greek could even almost make it 3-0, although Zeno Debast was able to prevent him from shooting just in time. Sporting could barely counter the Dutch in the first half. Bart Verbruggen had to show his strongest side on an attempt by Odgaard. The same Odgaard had another chance after half an hour of play, again without success. But the chances for AZ kept coming. A final header by Milos Kerkez went over, leaving it 2-0 at half-time.
Amir Murillo had to leave the field of play injured after only a few minutes in the second half. Killian Sardella came on in his place. After the break, RSCA came more into the match. A first chance came after an action by Francis Amuzu and Islam Slimani. The ball eventually reached Lior Refaelov, but he could not decide. Moussa N'Diaye's shot on the ensuing free ball did not go in either. At the other end, AZ continued to lead the dance. A header by Jens Odgaard and a kick by Milos Kerkez, twice just missed. And Bart Verbruggen again had to show his class, again on a good effort by Odgaard. The last chance of regular playing time came to Mario Stroeykens' name, but Mathew Ryan saved.
Even during the extra time, the Dutch remained dangerous. Francis Amuzu first managed to get through to the Australian AZ goalkeeper, but it was mainly on the other side that the chances fell. Once the ball even went against the nets, although Odgaard was clearly offside. Despite the chances, no more goals fell in the extensions, so penalties would decide who would advance to the semi-finals.
And that honour fell to AZ. They kicked all their penalties in, while AZ's goalkeeper prevented RSCA from scoring with two brilliant saves. RSCA's European dream thus ends in the quarter-finals after a beautiful and fascinating journey.
AZ Alkmaar
Mathew Ryan

Yukinari Sugawara

Pantelis Hatzidiakos

Milos Kerkez
(100' Mexx Meerdink)

Tijjani Reijnders

Jens Odgaard
(113' Djordje Mihailovic)

Jordy Clasie ©

Vangelis Pavlidis
(49' Maycklel Lahdo)
Sven Mijnans
(113' Riechedly Bazoer)
Myron van Brederode
(100' Mees de Wit)

Sam Beukema
RSC Anderlecht
Bart Verbruggen (GK)

Moussa N'Diaye

Zeno Debast           

Jan Vertonghen ©

Amir Murillo
(61' Killian Sardella)
Lior Refaelov
(75' Mario Stroeykens)
Amamdou Diawara
(111' Marco Kana)
Majeed Ashimeru
(89' Kristian Arnstad)

Francis Amuzu

Islam Slimani
(106' Nilson Angulo)

Anders Dreyer