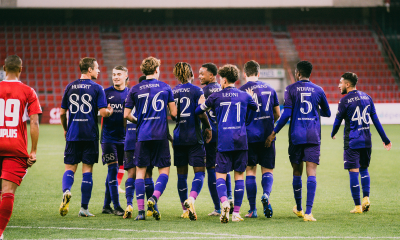 Last weekend, the RSCA Futures, the RSCA Women and RSCA Futsal were all in action. And it was a great weekend for them, as all three won their respective games. A brace from Lucas Stassin, a win in Genk and a few amazing goals on the floor. Here's a look at what happened.
RSCA Futures
A convincing win in Liège for our U23s. The RSCA Futures quickly took the lead thanks to a superb backheel goal by Killian Sardella. Despite Standard's equaliser at the beginning of the second half, Lucas Stassin secured the three points with a brace. RSCA Futures share the lead of the Challenger Pro League with K. Beerschot V.A. after seven gamedays.
RSCA Women
Our women's team travelled to Genk for the fifth gameday of the Lotto Super League. Although KRC Genk opened the score early in the game through Petry, it was RSCA Women who had the last word in this game. Minnaert, Jacobs and Thornton (2x) brought the final score to 2-4. RSCA Women are off to a perfect start in the league with five wins in as many games.
RSCA Futsal
First home game of the season for RSCA Futsal. It turned out to be a 11-1 win against Krijnen-Malle. The Mauve & Blanc won this game in great fashion. Fits, Rescia & co. scored a few splendid goals. Not a bad way to get ready for the Futsal Champions League.