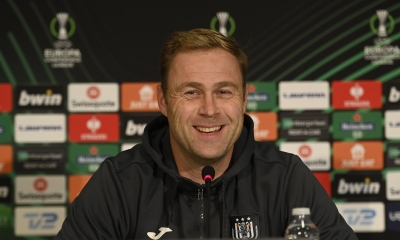 RSC Anderlecht traveled to Silkeborg, Denmark, on Wednesday for the decisive match against Silkeborg IF. Only a win will ensure that RSCA advances to the next round of the UEFA Europa Conference League. Coach Robin Veldman and captain Hendrik Van Crombrugge addressed the press at the JYSK Park.
Coach Robin Veldman is well aware of the importance of Thursday night's match. "This match can be important in the development of our playing philosophy. But of course, as RSC Anderlecht, you just want to win and advance to the next round. Especially in a season that has been difficult so far, it would be a nice bonus. For us every match is hugely important now, that goes for the next two league games and the one against Lierse in the cup as well. That we have to win here to advance? We are Anderlecht, we always have to try to win."
The coach also indicated that the staff has been working on the set pieces in order to concede less. "An adjustment is definitely needed, but we also have to try to avoid giving away so many set pieces. That's always the best defense." The readiness of Yari Verschaeren remains a question mark. "We will see how he experiences through tonight's training and then make a decision together with the medical staff. In any case, we are already happy that he is with the group."
Captain Hendrik Van Crombrugge also took the floor on Wednesday. "In the end, it will be decided on the field who qualifies, whoever may be the better team in theory. I am convinced that we have the qualities to push through. We start every game with a positive and offensive mindset, so the fact that we have to win here to advance does not add additional pressure or should not change our approach. A synthetic pitch always takes some getting used to, but we have enough technical players to deal with that."
"We have to take the positives from the previous 2 games into this game. Against FCSB, we gave away the lead in an unfortunate way, but in that match and against Eupen we showed our true face again at times. We found the spaces, showed a lot of verticality and created chances. I believe the coach has a clear way of playing and that is a way of playing that this group knows and understands. It's up to us to ensure positive results week in, week out as soon as possible."