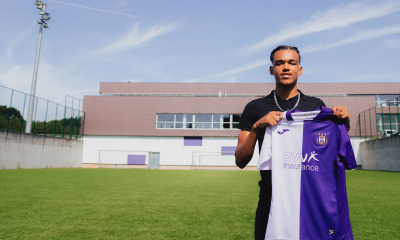 Nunzio Engwanda has signed his first professional contract. He'll now play in Mauve until -at least- June 2026.
15 years, 8 months and 11 days. Nunzio was that old when he made his professional debut in the Lotto Park last Friday, against Beerschot. He became the youngest player in the history of professional Belgian football.
Born in 2007, Nunzio joined Neerpede when he was just 6 years old. He immediately impressed with his calm and confidence on the ball. Nunzio plays mostly as a central defender, but his versatility allows him to play in midfield as well.
Last season, Nunzio was playing with Stéphane Stassin's U16s. During the summer, the young player joined the RSCA Futures' squad, in which he trains and plays with his brother Alonzo. Nunzio has already represented Belgium in the national youth team on several occasions.
Congratulations, Nunzio.