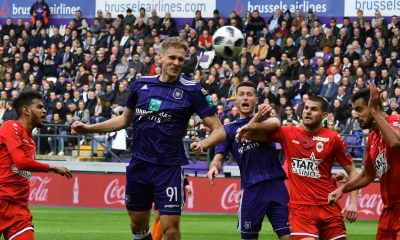 RSC Anderlecht received Royal Antwerp FC on the final matchday of the regular competition. After his rich career of 22 years, president Roger Vanden Stock said goodbye to RSC Anderlecht. The complete stadium honoured him, and the Purple & White icon kicked off the match together with his favourite player Pär Zetterberg. RSCA took the three points on the final matchday thanks to goals by Lukasz Teodorczyk and Silvère Ganvoula, but did end the match with only nine players.
Coach Hein Vanhaezebrouck did not carry through any changes and started with the same eleven players for the third matchday in a row. After only three minutes, however, the Purple & White were reduced to ten players. Referee Laforge sent Leander Dendoncker off the field after he stopped Limbombe. Hairemans took the free kick, Sels turned it into a corner. A few minutes later on, Saief reached Teodorczyk with a high centre from the left wing, but the striker's header went long. Limbombe saw his chance, but his attempt was blocked. Then Owusu took a swing from just outside of the box, Sels saved again. After 22 minutes, RSCA took the lead. On a free kick, Lukasz Teodorczyk beat Bolat after a cross by Trebel. Hairemans reacted with a free kick twice, but was not able to outsmart Sels. Owusu did outmanoeuvre Obradovic, but his attempt went wide. Sels made another good save on a header by Haroun right before half-time, but Limbombe had followed well and put in the equalizer.
In the second half, both teams were at the same level, and not many opportunities were created. In the 77th minute, the 2-1 finally appeared on the board. After a foul by Siani on Morioka in the box, referee Laforge awarded a penalty to the home team. Silvère Ganvoula converted it. Three minutes later on, the second red card of the match was shown to an RSCA player, Adrien Trebel had tackled Limbombe. In the closing minutes, Pitroipa took a shot from a distance, Sels turned it into a corner. The final threat during injury time was by Pitroipa as well, but it went wide. RSC Anderlecht completes the final matchday with a 2-1 victory over Antwerp, that loses a Play-Off I ticket at the last moment. Next week, the Purple & White will practise to prepare for the play-offs. The opponents will be Club Brugge, Sporting Charleroi, KAA Gent, KRC Genk and Standard.
RSCA: Matz Sels, Dennis Appiah, Leander Dendoncker, Uros Spajic, Ivan Obradovic, Kenny Saief, Sven Kums, Adrien Trebel, Ryota Morioka (83' Josué Sá), Pieter Gerkens & Lukasz Teodorczyk (71' Silvère Ganvoula).
Goals: 22' Lukasz Teodorczyk (1-0), 43' Stallone Limbombe (1-1) & 72' Silvère Ganvoula (2-1).