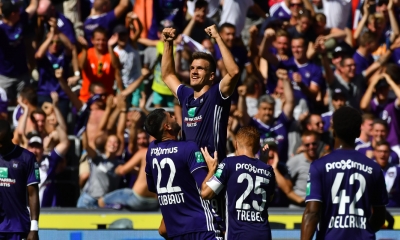 Sun, an almost completey sold out Constant Vanden Stock Stadium and an eager crowd: it looked like it was going to be a great football afternoon! Dennis Appiah replaced Sebastiaan Bornauw, who was ill. Anderlecht created a number of good opportunities before half-time, Alexis Saelemaekers showed off with some great centres, but they did not manage to score.
After half-time, that changed. Alexis with the cross, Elias Cobbaut passed back to Ivan Santini and the Croat scored! After him, our other top striker took his chance. Landry Dimata, alone in front of the goal, scored the 2-0. The goal against by KVO did not bother our lads: Ivan scored his second goal of the match and somewhat later on, even turned it into a hattrick. Landry then put the 5-1 on the board. The visitors turned the final score into 5-2, but that did not ruin the party at the Astridpark!
Thanks to the fans for their great support!
Goals: 46' 1-0 (Santini), 52' 2-0 (Dimata), 58' 2-1 (Guri), 83' 3-1 (Santini), 86' 4-1 (Santini), 89' 5-1 (Dimata), 92' 5-2 (Milovic)
RSCA: Didillon, Makarenko, Gerkens (75' Musona), Dimata, Appiah, Santini, Cobbaut, Trebel, Milic (45' Delcroix), Vranjes, Saelemaekers (93' Amuzu)
KV Ostend: Dutoit, Faes, Milovic, Zivkovic, Guri, Vanlerberghe (85' Boonen), Ndenbe (78' Sakala), Vandendriessche, Capon, Tomasevic, Canesin