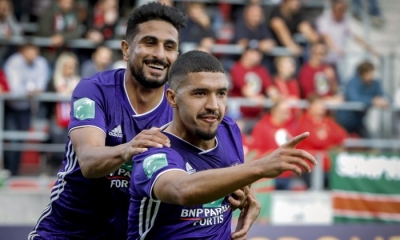 Anderlecht visited the Regenboog Stadium for the competition match with SV Zulte Waregem. Hein Vanhaezebrouck changed his team in three places: Sebastiaan Bornauw, James Lawrence and Kenny Saief were in the starting line-up.
The team from Brussels controlled the first half and created a few nice opportunities. The shot by Pieter Gerkens, after a good pass by Landry Dimata, was saved by Sammy Bossut. Somewhat later on, Bakkali was not able to take advantage of a missed intervention by Bossut, his attempt was saved on the line by Baudry. Still, Anderlecht went into half-time with a deserved lead. Dimata sent Zakaria Bakkali deep and the latter scored.
After half-time, the Purple & White were close to double their lead, but Bossut prevented Dimata from scoring the 0-2. The home team did not surrender: Thomas Didillon had to intervene on a crossed shot by Bongonda. Fifteen minutes before the end, a good cross pass by Kums reached Saelemaekers' head. The youngster passed the ball on to Pieter Gerkens, who put the 0-2 on the board with a volley. A late goal by Thomas Buffel brought some suspense, but the three points were, deservedly so, for Anderlecht.
Goals: 43' Bakkaki (0-1), 77' Gerkens (0-2), 90+2' Buffel (1-2)
Zulte Waregem: Bossut, De Fauw, Baudry, Heylen, Buffel, Harbaoui, Bongonda, De Pauw (75' Soisalo), Walsh, Demir (55' Bedia) & Tardieu (27' Marcq)
RSCA: Didillon, Sanneh, Lawrence, Bornauw, Saief (67' Milic), Trebel, Kums, Saelemaekers, Gerkens, Bakkali (72' Dauda) & Dimata (90+1' Najar)