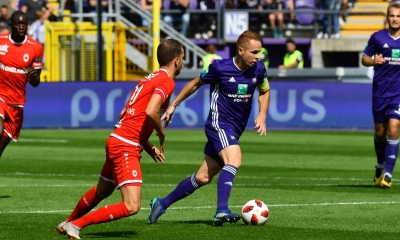 On a sunny Sunday afternoon, Royal Antwerp FC visited the Astridpark on the sixth matchday of the regular competition. Coach Hein Vanhaezebrouck put Bakkali, Najar and Gerkens in the starting line-up. New English player James Lawrence made his debut and started the game as well. The match ended in a draw. In the 16th minute, Gerkens took the lead for the Purple & White with a header. The three points seemed to be for the home team, but during injury time, RSCA took a goal by Owusu.
The first opportunity was one for Santini, his shot was put over the crossbar by goalie Bolat. In the 16th minute, the Purple & White took the lead. Saelemaekers reached Gerkens, who scored the 1-0 with the header! Somewhat later on, an attempt by Bolingi went wide. Before half-time, Haroun took a swing, but his shot from a distance went long. Santini launched Dimata with a fast centre, but the latter was not able to reach the ball and put Bolat to the test. 1-0 at half-time.
At the start of the second half, there were not major scoring opportunities. Before the final fifteen minutes, Hairemans hit the post, but Didillon made the save. After that, a shot by Gerkens went long. The visitors pushed, and went looking for the equalizer, which was scored during injury time. Substitute Refaelov reached Owusu, he scored with a header. On Saturday 15 September, RSCA will visit the Luminus Arena on the seventh matchday for the game against KRC Genk.
Goals: 16' Pieter Gerkens (1-0), 92' Owusu (1-1)
RSCA: Didillon, Najar, Lauwrence, Milic, Makarenko, Saelemaekers (81' Sanneh), Trebel, Gerkens, Bakkali (85' Kums), Dimata (89' Appiah) & Santini
Antwerp: Bolat, Oparé (84' Rodrigues), Juklerod, Bolingi, Hairemans (77' Refaelov), Arslanagic, Owusu, Batubinsika, Van Damme, Haroun, Yatabare (88' Baby)