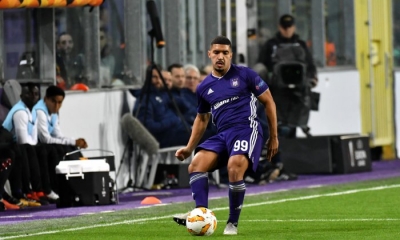 The Purple & White took on Fenerbahçe on the third matchday of the UEFA Europa League tonight, Thursday 25 October. Hein Vanhaezebrouck replaced three players in comparison to last Sunday's match against Cercle Brugge. Kenny Saief, Ivan Santini and Alexis Saelemaekers took the place of Francis Amuzu, Landry Dimata and Andy Najar.
The most beautiful opportunities in the first half were for the home team. Pieter Gerkens hit goalie Tekin from up close. The visitors were dangerous as well, Didillon had to make a save on an attempt by Benza. After some thirty minutes, Sven Kums sent Zakaria Bakkali away in the box. He did not doubt and scored the 1-0. A few minutes after that opening goal, Didillon made a nice save on an attempt by Frey. Right before half-time, the score almost became 2-0. A free kick by Sven Kums hit the post.
The second half started well for Anderlecht. Star player Zakaria Bakkali scored. The joy did not last long, however, as Fenerbahçe replied with two goals in four minutes. Michael Frey scored the first one, while captain Hasan Ali Kaldirim put in the second. Eight minutes after the second goal by Bakkali, the score was tied. It remained like that. As a result, RSC Anderlecht ended up with just one point.
Goals: 35' Bakkali (1-0), 49' Bakkali (2-0), 53' Frey (2-1) & 57' Ali Kaldırım (2-2)
RSCA: Didillon, Lawrence, Sanneh, Gerkens (85' Dauda), Saief, Santini, Trebel, Kums, Bornauw, Saelemaekers (85' Najar) & Bakkali
Fenerbahçe: Tekin, Ali Kaldirim, Isla, Frey, Reyes, Slimani (74' Ayew), Jailson, Neustadter, Skrtel, Benzia (74' Kağan Güçtekin) & Elmas (84' Potuk)