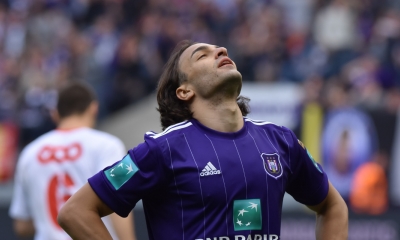 This afternoon's match at the Astridpark, showed that football is not always the most logical sport. The Purple & White faced a deadly efficient Standard, who now take over RSCA's second place on the league table.
The afternoon had started well, with a great welcome by the Mauves Army, celebrating its anniversary, for the Purple & White players' bus. The game also started well, but Saief, Morioka and Teodorczyk were not able to score. A clear penalty after a foul by Selahi on Morioka was not recognized by referee Vertenten.
A dominant RSCA forgot to score and was punished for this in the second half. A fast counter by Edmilson turned into the 0-1 for the visitors, Renaud Emond doubled that lead a few minutes later. An eager Markovic tried to turn the tide, substitute Pieter Gerkens gave Anderlecht hope by scoring via Lukasz Teodorczyk's leg in a full box. The visiting defenders back down under the Purple & White pressure, but in minute 78, football proved to be a cruel sport. Carcela and Edmilson took advantage of a misinterpretation by Najar with a counter. A huge blow for RSCA, who have to allow Standard in front of them in the ranking now.
RSCA: Matz Sels, Josué Sá, Leander Dendoncker, Olivier Deschacht, Andy Najar (83' Alexis Saelemaekers), Kenny Saief (46' Pieter Gerkens), Sven Kums, Adrien Trebel, Ryota Morioka, Lazar Markovic (76' Massimo Bruno), Lukasz Teodorczyk.
Goals: 48' Edmilson (0-1), 51' Emond (0-2), 62' Gerkens (1-2), 78' Edmilson (1-3).