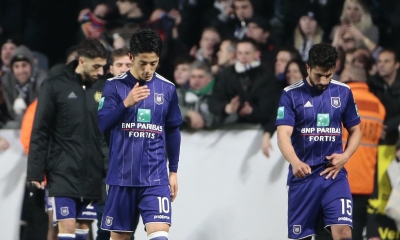 For the opening game of the 27th matchday, RSCA visited STVV. Coach Hein Vanhaezebrouck carried through four changes in comparison to the team that lost at KV Oostende last weekend. Albert Sambi Lokonga and Josué Sá replaced Sven Kums and Leander Dendoncker, who were suspended. Lukasz Teodorczyk and Massimo Bruno were also in the starting line-up. The Purple & White lost 0-1 in Limburg.
The match started with quite a lot of grinta on both sides, but after twenty minutes the pace fell when some Purple & White visitors used smoke bombs. Referee Verboomen saw smoke coming over the pitch and sent both teams to the changing rooms. After a ten-minute break, play resumed. Teodorczyk tried his luck from a distance, but the ball went wide. After thirty minutes, Chuba Akpom scored the only goal of the game. The player on loan from Arsenal pushed through from the half-way line, went past Josué Sá with a little bit of luck and then beat Matz Sels with a shot from a distance. Right before half-time, referee Verboomen unrightfully awarded a penalty after alleged hands by Sá. Sels made the save on Akpom's penalty.
Early on in the second half, Teodorczyk pushed through, but Kotysch stopped him in time. On a hard shot by De Sart, Sels had to show what he could do, his attempt went long. Right before the sixtieth minute of play, the Purple & White had their best opportunity of the match: Spajic with the header on a corner by Saief, Sambi Lokonga deviated the ball into the hands of goalie Steppe. Former RSCA player Jonathan Legear turned up in front of the goal ten minutes later on, his cross was turned into a corner in the nick of time. After 74 minutes, Chipciu was replaced by Alexis Saelemaekers, the 18-year-old right wing player made his debut in the Purple & White first team. He tried to help his team, but STVV did not cave and RSCA lost 1-0. The Purple & White have only taken 3 out of 15 points on the last matches. They can now be overtaken in third position by KAA Gent. Next Sunday, RSCA will receive Excel Moeskroen at the Astridpark.
Goal : 42' Akpom (1-0)
RSCA : Matz Sels, Dennis Appiah, Uros Spajic, Josué Sá (74' Ryota Morioka), Ivan Obradovic,  Pieter Gerkens, Albert Sambi Lokonga, Kenny Saief, Massimo Bruno (62' Mohammed Dauda), Alexandru Chipciu (74' Alexis Saelemackers) & Lukasz Teodorczyk