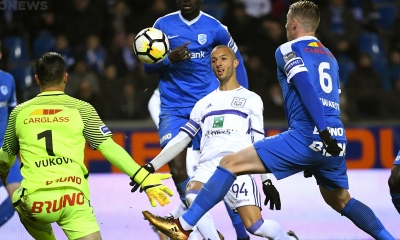 2018 started well for RSC Anderlecht. When visiting KRC Genk, who ended the match with ten players, RSCA won 0-1. Coach Hein Vanhaezebrouck allowed newcomer Kenny Saief to be in the starting line-up, on the left wing, while KV Mechelen started with Silvère Ganvoula in the forward line.
The match started with an opportunity for Pieter Gerkens, who played his 100th game in first division. Unfortunately, he was not able to score, his attempt, after a centre by Dennis Appiah, ended up in the side of the net at the far post after only forty seconds of play. The home team tried to take control, but RSCA were dangerous again. Saief reached Gerkens with a cross, but the latter had some bad luck and was not able to put the ball in. On the other side, Vanzeir had a major opportunity, but his shot hit the outside of the post. An attempt by Saief went long and Dendoncker did not manage to score with the header after a corner by Kums. An entertaining first half finally did result in a goal: Appiah stole the ball in the box and passed it to Sofiane Hanni, who nicely put the ball over Vukovic.
In the second half, a shot by Schrijvers for Genk went wide early on. A few minutes later, Malinovskyi was booked for the second time, and the home team were reduced to ten players for almost 45 minutes. After an hour's worth of play, Gerkens was hit by Uronen, after which he had to leave the pitch. The Purple & White tried to control the match, and KRC Genk were not able to create any opportunities. Substitute Lukasz Teodorczyk came up with a nice shot ten minutes before the end, but it was averted by Vukovic. Francis Amuzu, who came in for the unfortunate Gerkens, hit the post with a crossed shot. The home team tried, but RSCA defended well and kept the first victory of 2018 safe.
RSCA: Matz Sels, Josué Sá, Leander Dendoncker, Olivier Deschacht, Dennis Appiah, Kenny Saief, Sven Kums, Adrien Trebel, Pieter Gerkens (63' Francis Amuzu), Sofiane Hanni, Silvère Ganvoula (76' Lukasz Teodorczyk)
Goal: 45' Hanni (0-1)