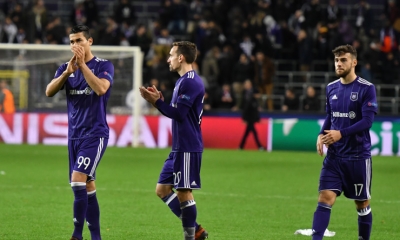 RSC Anderlecht did not manage to take a first point in the UEFA Champions League on the fifth matchday. The Purple & White were not able to reward themselves for a strong match against Bayern Munich. The home team was not efficient enough, but did score its first goal of the group stage thanks to Sofiane Hanni. Remaining in Europe after the winter break, in the Europa League, is still possible, but then the team has to beat Celtic with four goals' difference in the away game on the final matchday.
The first half was interesting. The Purple & White started the game well and created a first opportunity via Lukasz Teodorczyk after seven minutes. The Pole was not able to finish it off and hit Ulreich. Ten minutes later on, Dennis Appiah took his chance. His hard shot was turned into a corner by Ulreich. Uros Spajic had followed well, but was not able to turn his offensive action into a goal. A try by Teodorczyk also went wide. The visitors tried to come up with a reply, but did not really create any scoring opportunities. After some thirty minutes of play, they came close, but Matz Sels saved a cross by Robben, and Appiah blocked the rebound by Lewandowski. Teodorczyk was dangerous a third and even a fourth time, but could not score. At the end of the first half, Gerkens was taken down in the box, but referee Taylor did not react. 0-0 at half-time.
Early on in the second half, the Purple & White were punished for not having opened the score in the first half. Tolisso pushed through on the right wing and reached Lewandowski at the far post, 0-1. Somewhat later on, the visiting striker pushed through again, but his attempt went across the goal. In minute 62, the first RSCA goal of the CL campaign went in. Teodorczyk reached Sofiane Hanni, the captain scored the equalizer with the header, ten minutes after the opening goal. Coach Vanhaezebrouck put in Henry Onyekuru and Massimo Bruno. Sels also kept Lewandowski from scoring a second time. Onyekuru reached Teodorczyk in the box, but Teo just missed. Right after that, Bayern was very efficient on the other side: Tolisso beat Kara in the air and put the 1-2 on the board. In the last but one minute, substitute Harbaoui scored, but the goal was rightfully disallowed because of offside. The score remained 1-2 and thus a strong match by the Purple & White against the German Rekordmeister was not rewarded.
Goals: 51' Lewandowski (0-1), 63' Sofiane Hanni (1-1), 77' Tolisso (1-2)
RSCA: Matz Sels, Olivier Deschacht, Kara Mbodji, Uros Spajic, Dennis Appiah, Leander Dendoncker, Adrien Trebel, Pieter Gerkens (64' Henry Onyekuru), Sven Kums, Sofiane Hanni (69' Massimo Bruno) & Lukasz Teordorczyk (80' Hamdi Harbaoui).