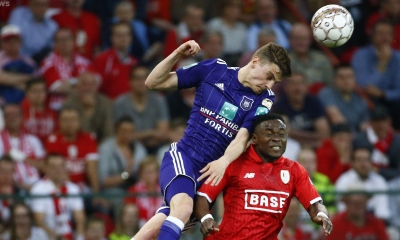 The Purple & White had to return from Luik empty-handed after a 2-1 loss to Standard on the fourth matchday of Play-Off I. Yet, they created enough opportunities to score more goals.
Coach Hein Vanhaezebrouck had to carry through one change to his starting line-up in comparison to the eleven that took on Club Brugge: Lazar Markovic was not fit and was replaced by Ryota Morioka. Standard started the Clasico best, but Morioka created the first real scoring opportunity of the game. The Japanese player, however, was not able to finish off the pass by Trebel. Right after that, the Purple & White suffered a goal against: Matz Sels was doubtful on a low centre by Edmilson, Renaud Emond put in the opening goal. RSCA tried to react via Morioka, but Sven Kums was the one close to the equalizer after 39 minutes. The midfielder's shot hit the post. On the following corner, the shot by Adrien Trebel did go in via a home defender. An interesting first half ended in a 1-1 score.
Early on in the second half, Sels made a good save on an attempt by Marin, and on the other side Obradovic almost surprised Ochoa. After sixty minutes, the team from Luik took the lead for the second time when Mehdi Carcela took a swing with a crossed shot from right outside of the box. The Purple & White reacted with a corner by Kums, Dendoncker's header hit Ochoa's fists. Coach Hein Vanhaezebrouck played two trump cards with Alexandru Chipciu and Massimo Bruno, after having already brought in Silvère Ganvoula. The latter missed a big opportunity to score the equalizer ten minutes before the end after a great slalom by Kenny Saief, the Congolese player hit Ochoa. Three minutes later, Chipciu was not able to finish off a cross by Bruno, and during injury time Ganvoula did not manage to put in a centre by Sá. The Purple & White did not score the equalizer. As a result, Standard are now only three points behind on RSCA. On Saturday night, the away match against KRC Genk will take place.
RSCA: Matz Sels, Alexis Saelemaekers (69' Alexandru Chipciu), Josué Sá, Leander Dendoncker, Ivan Obradovic, Kenneth Saief, Sven Kums, Ryota Morioka (77' Massimo Bruno), Pieter Gerkens & Lukasz Teodorczyk (61' Silvère Ganvoula).
Goals: 10' Renaud Emond (1-0), 40' Adrien Trebel (1-1) & 60' Mehdi Carcela (2-1).