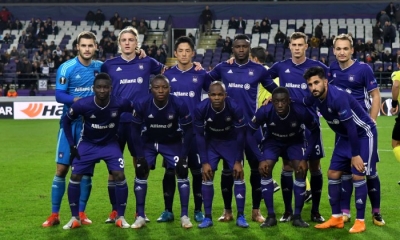 On Thursday night 29 November, RSC Anderlecht received the Slovakian Spartak Trnava on the last but one group match of the season in the UEFA Europa League. Coach Hein Vanhaezebrouck had to turn his team upside down. Many players were ill or injured.
The first half was balanced, but neither team was really dangerous. The first shot on goal, eventually, was one by the Purple & White. The attempt by Kenny Saief missed power, however. The Slovakians replied via Marek Bakos. He forced Thomas Didillon to make a nice save. With half-time approaching, Mohammed Dauda almost opened the score. His low kick hit the post.
The second half mainly took place on the half of Trnava, but the final pass or the shot on goal was a problem for the home team. Fifteen minutes before the end, the visiting goalie had to save on an attempt by Ryota Morioka. Coach Vanhaezebrouck carried through three substitutions: Yari Verschaeren, Albert Sambi Lokonga and Francis Amuzu replaced Ryota Morioka, Yevhenii Makarenko and Knowledge Musona. But no goals were scored: 0-0.
RSCA : Didillon, Lawrence, Sanneh, Makarenko (80' Sambi-Lokonga), Morioka (80' Verschaeren), Musona (80' Amuzu), Appiah, Saief, Dauda, Kayembe & Bornauw
FC Spartak Trnava : Chudy, Kulhanek, Tchanturishvili, Grendel (89' Miesenboeck), Skhirkadze, Toth, Bakos (59' Ghorbani), Oravec, Malecki (90+2' Janso), Jirka & Gressak