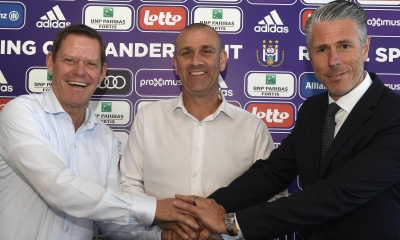 Simon Davies (45) has been named head coach of RSC Anderlecht. He signed a contract that ties him to the club until 2022. He will complete the coaching staff, where he will be working with Pär Zetterberg, Karim Belhocine, Jonas De Roeck, Floribert Ngalula and goalkeeper coach Max de Jong. They will help Vincent Kompany to implement his football vision at RSC Anderlecht.
Simon Davies is, just like Vincent Kompany, making the move from Manchester City. The Welshman, former player of Manchester United and Chester City among other clubs, has been working for nine years as a part of Manchester City's coaching staff. He was, for instance, Patrick Vieira's assistant and became in 2016 his successor within the Elite Development Squad (EDS). His role there was to prepare the most talented players for the first squad. In 2018 he became, as Head of Academy Coaching, responsible for the implementation of Pep Guardiola's style of play in the U13 to U23 teams.
Together with Vincent Kompany, he is now joining RSC Anderlecht. "When Vinny asked me to make the move with him to RSC Anderlecht, I didn't doubt", Davies explains. "We are starting a beautiful project: taking RSC Anderlecht back to the place where they belong, with special emphasis on the development of talented young players."

Sporting Director Michael Verschueren is also pleased with the arrival of Davies. "We hired him following Vincent Kompany's advice. They have been working together for quite a while and we want to bring Manchester City's success story to RSC Anderlecht", he says.

Floribert Ngalula is making the move from BX Brussels, where he has been the head coach for five years. He is a true 'ket', who played for RSC Anderlecht together with Vincent Kompany in the youth squads.
Welcome in #TeamKompany!