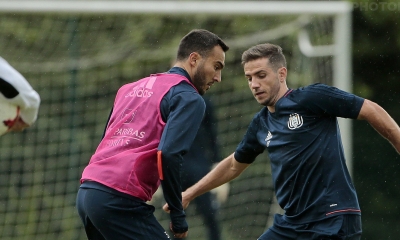 Hein Vanhaezebrouck will have to make changes to his team for the away match at KRC Genk. Ivan Obradovic and Alexandru Chipciu have to pass for the game.
Ivan Obradovic sustained a shinbone injury during winter practice in La Manga and returned to Neerpede early. The Serbian has resumed running training since yesterday, but has not played any matches for some time. Alexandru Chipciu also sustained an injury, a knee inflammation and has not been training for a few days. As a result, neither of these players will be part of the selection for the match this weekend.
Frank Boeckx had to leave training today. The medical staff will follow up, if necessary Boy de Jong will take his place in the selection. Long-term injured players Andy Najar (hamstrings), Kara (knee) and Emmanuel Sowah (adductor muscles) will be absent in any case. Combined with the suspension of Uros Spajic (fifth yellow card), this means that coach Vanhaezebrouck will call on a number of youngsters to be part of his match selection again.