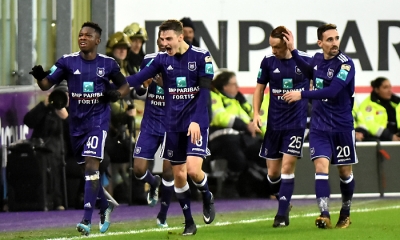 On the 20th matchday of the regular competition, the Purple & White received KAS Eupen at the Constant Vanden Stock Stadium. For this match, coach Hein Vanhaezebrouck carried through multiple substitutions. Kara Mbodji fell out with an injury and Dennis Appiah was suspended. Lukasz Teodorczyk returned to the starting line-up after having been suspended. For Francis Amuzu, Albert Sambi Lokonga and substitute Edo Kayembo this was a special night, the three youngsters played their first minutes in the first Purple & White team. Amuzu even had a dream debut and scored the only goal of the match after 25 minutes.
After ten minutes in the first half, the first real opportunity was one for Lukasz Teodorczyk, who was not able to score after a header by Leander Dendoncker. Mbaye Leye intervened well and prevented an early lead. A few minutes later on, Dendoncker eliminated a cross by Raspentino when the visitors pushed through for the first time. The Purple & White did take ball possession, but they had difficulties getting through the visitors' defence. Trebel took a swing with a shot from a distance, which went wide. In the 25th minute, the Astridpark cheered. It was Francis Amuzu who topped off his debut with the opening goal on a pass by Trebel. Raspentino went looking for the equalizer for the visitors, but was stopped by Deschacht. Right before half-time, Onyekuru was dangerous twice, the Eupen goalie, however, was in the way both times.
In the second half, not a lot happened until the fifteenth minute. Eupen was dangerous on a corner via Valiente, his header went long. In the 65th minute, Edo Kayembe was the third youngster to make his debut during this home match, he replaced Adrien Trebel. A few minutes later on, the Purple & White pushed through again. Gerkens sent a centre towards substitute Hanni, who was not able to double the lead, despite his good corner. Right before the final fifteen minutes, Hanni had a new opportunity after a cross by substitute Obradovic. The midfielder had trouble controlling the ball and waited too long to took a swing. In the final minutes, Mbaye Leye looked for the late equalizer. The shot from a distance by the Eupen striker, however, did not threaten Sels. In the five minutes of injury time, Hanni and Teodorczyk attacked. Van Crombrugge made a final save on the Polish striker's shot. At the final whistle, the score was still 1-0. On Tuesday 26 December, RSCA will play the final match of 2017 at the Constant Vanden Stock Stadium, against KAA Gent.
RSCA: Matz Sels, Uros Spajic, Leander Dendoncker, Olivier Deschacht, Pieter Gerkens, Adrien Trebel (65' Edo Kayembe), Sven Kums, Francis Amuzu (65' Sofiane Hanni), Albert Sambi Lokonga, Henry Onyekuru (77' Ivan Obradovic), Lukasz Teodorczyk.
Goal: 25' Francis Amuzu (1-0)