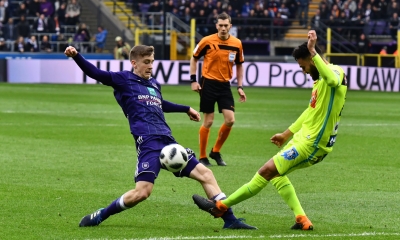 The Purple & White did not start Play-Off I as they had hoped. KAA Gent were stronger than the home team at the Astridpark and beat Anderlecht 0-2. The team from Gent now also overtake RSCA on the league table.
Because of Dennis Appiah's injury, coach Hein Vanhaezebrouck rewarded 18-year-old Alexis Saelemaekers with a place in the starting line-up. The visitors started the match best and were dangerous via Dejaegere and Janga, but the Purple & White restored the balance and created opportunities via Gerkens and Saief. After an interesting opening fifteen minutes, Kalu barely missed Matz Sels' goal. After thirty minutes, an eager Saelemaekers reached Gerkens, who went down after contact with Foket. Referee Lardot, however, did not react. Both teams were able to dominate the other from time to time, but at half-time the 0-0 score still appeared on the board.
Early on in the second half, RSCA suffered a setback. The defence was not able to get rid of a Gent attack by Kalu, Brecht Dejaegere opened the score for the visitors in the rebound. After almost an hour's worth of play, Morioka had a big chance to score the equalizer, but hit the post. Dendoncker then lost the ball, which almost led to a second goal against. However, he made up for it by averting an attempt by Kalu – in cooperation with Sels. Youngster Alexis Saelemaekers was replaced by Lazar Markovic, but Matz Sels had to work again, he was ready for the shot by substitute Chakvetadze. At the end of the game, Verstraete was tackled by Spajic in the box. Sels managed to save the penalty by Yuya Kubo, but the Japanese player scored the 0-2 in the rebound.
RSCA : Matz Sels, Alexis Saelemaekers (81' Lazar Markovic), Josué Sá (78' Silvère Ganvoula), Uros Spajic, Ivan Obradovic, Leander Dendoncker, Sven Kums, Ryota Morioka, Pieter Gerkens, Kenny Saief, Lukasz Teodorczyk.
Goals : 47' Dejaegere (0-1), 86' Kubo (0-2).