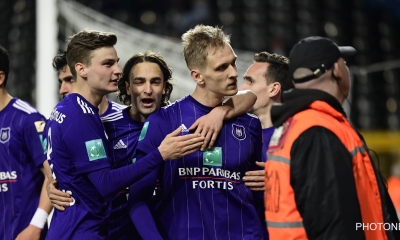 Sporting Charleroi and RSC Anderlecht opened the second matchday of Play-Off I on the new pitch at the Stade du Pays de Charleroi today. The Purple & White took the first win in the Play-Offs thanks to an early goal by Ryota Morioka and a penalty goal by Lukasz Teodorczyk.
Coach Hein Vanhaezebrouck carried through one change to his team in comparison to the first matchday: Lazar Markovic was in the starting line-up for the first time. After only three minutes, the Serbian provided an assist for Ryota Morioka, who put in the opening goal. The home team were not able to react, Kums stopped an attack via Bedia. Halfway through the first half, Uros Spajic had to be replaced after contact with Bedia. Somewhat later on, Markovic came up with a good dribble, but Marinos hit the Serbian wing player. Before half-time, Morioka and Teodorczyk were close to scoring the second goal, but Dessoleil and Mandanda saved.
At the start of the second half, Amara Baby joined the Carolos, and he soon proved his worth with a cross toward Nurio, which resulted in the equalizer. On the other side, Saief reacted by pushing through, his centre ended up with Teodorczyk via Markovic, but the Polish striker hit Mandanda. After about an hour's worth of play, Lukasz Teodorczyk went down in the box after contact with Zajkov, he nicely converted the penalty. The home team were not able to react, Nurio had to save the ball in front of Morioka after a low entre by Saief. A foul by Teodorczyk on Martos stirred up high feelings, but things calmed down in time. During the final stages of the game, Abdoul Karim Danté made his debut in the first team. De Malinese central defender replaced Alexis Saelemaekers, who played another solid match. During injury time, Teodorczyk was close to scoring his second, but Mandanda kept the 1-2 on the board.
RSCA: Matz Sels, Alexis Saelemaekers (89' Abdoul Karim Danté), Uros Spajic (23' Josué Sá), Ivan Obradovic, Leander Dendoncker, Sven Kums, Ryota Morioka (83' Albert-Mboyo Sambi Lokonga), Pieter Gerkens, Kenny Saief, Lazar Markovic & Lukasz Teodorczyk.
Goals: 3' Morioka, 47' Baby (1-1) & 65' Teodorczyk (1-2, pen).