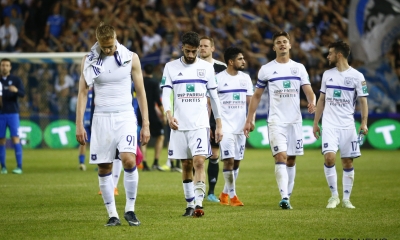 The Purple & White lost on the pitch of KRC Genk tonight. After an interesting match, RSCA, like at Standard, lost: 2-1. Coach Hein Vanhaezebrouck carried through one change in comparison with the Clasico on Wednesday: Lazar Markovic was fit again and replaced Ryota Morioka in the starting line-up.
The match had only just begun, or the Purple & White fell behind. Nastic reacted faster than the Anderlecht defence, and Matz Sels was in doubt too long on the centre by the Serbian. Dieumerci Ndongala, like that, put the 1-0 on the board after only two minutes. After twenty minutes' worth of play, Adrien Trebel reached Lazar Markovic, the player on loan from Liverpool put the equalizer past goalie Vukovic. After some thirty minutes, Sels had to make two saves on attempts by Malinovskyi. As a result, the fans saw a nice first half.
Early on in the second half, Trossard was not able to take advantage of a cross by Ndongala thanks to an intervention by Saelemaekers. A few minutes later on, Lukasz Teodorczyk was booked, as a result of which he is suspended for the match against Sporting Charleroi. After an hour's worth of play, the team from Genk took the lead again after a nice collective attack. Pozuelo took Karelis through defence, Leandro Trossard put the Greek's pass in. Sven Kums had to leave the pitch with an injury and saw referee Dierick awarding a penalty to Standard with twenty minutes left on the clock, after Dendoncker and Colley collided in the box. After a discussion with the video ref, however, the penalty was cancelled. Somewhat later on, Teodorczyk was almost able to take advantage of a cross by Sá, but Vukovic made the save. Substitutes Francis Amuzu and especially Massimo Bruno were close to scoring the equalizer, but the Purple & White were not in luck. As a result, Anderlecht, after the nice home victory over Club Brugge, have taken 0 points out of 6 in two difficult away matches.
RSCA: Matz Sels, Alexis Saelemaekers (67' Massimo Bruno), Josué Sá, Leander Dendoncker, Ivan Obradovic, Kenneth Saief, Sven Kums (66' Ryota Morioka), Lazar Markovic (80' Francis Amuzu), Pieter Gerkens & Lukasz Teodorczyk.
Goals: 2' Dieumerci Ndongala (1-0), 20' Lazar Markovic (1-1), 59' Leandro Trossard (2-1).