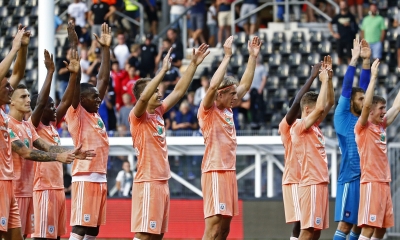 After having completed two matchdays with a perfect score, RSCA headed to Charleroi yesterday. The Purple & White managed to conclude this third competition match with 9 points out of 9 matches.
Hein Vanhaezebrouck was able to count of the comeback of young Bornauw. The injured Milic was absent. Charleroi was the first team to be dangerous. If it had not been for a five-star intervention by Didillon, Felice Mazzu's lads would have opened the score. Only at the end of the first half, the score changed. Rezaei scored for Charleroi. A few minutes later on, however, Dimata was taken down in the Charleroi box and the referee did not hesitate. Dimata converted the penalty and scored with a speed of no less than 119 km/h! The score at half-time: 1-1.
Back from the changing room, the Purple & White took the lead thanks to the inevitable Santini. After a centre by Cobbaut, the Charleroi defender was not able to intervene. As a result, Santini only had to touch the ball. This is the Croat's seventh goal in three matches for the Purple & White. Despite a few opportunities for Charleroi and counters by Anderlecht, the Purple & White were the the ones to take home the three points. Thanks to this new victory, Anderlecht now join Club Bruges at the top of the ranking.
Goals: 45'+3 Dimata & 65' Santini
RSCA: Didillon, Vranjes, Bornauw, Appiah, Saelemaekers, Trebel, Makarenko, Cobbaut (82' Amuzu), Gerkens (73' Musona), Dimata & Santini
Charleroi: Mandanda, Martos, Rezaei, Benavente, Marinos, Baby (85' Fall), Hendrickx (71' Perbet), Willems, Dessoleil, Ilaimaharitra & Gholizadeh (89' Grange)