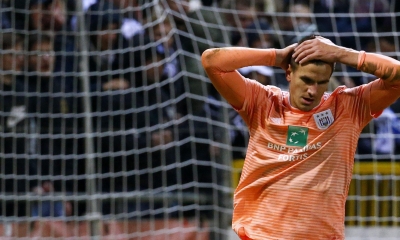 On Sunday, the far away match in the East Cantons was scheduled for RSCA. KAS Eupen received RSC Anderlecht for the twelfth competition match of the season. The coach was not able to count on Zakaria Bakkali (ill - Musona took his place), Landry Dimata (injured) and Alexis Saelemaekers (suspended). RSCA lost the game 2-1.
The first opportunity of the match was one for the Purple & White. The attempt by Francis Amuzu only just missed the goal. The home team reacted via the eager Luis Garcia. A brilliant kick hit the post. In de 25th minute, the Spaniard did score. The shot from a distance hit Bornauw and went in goal. The Pandas doubled their lead a few minutes later on. Garcia with another shot, Yuta Toyokawa was ready for the rebound after the save by Thomas Didillon: 2-0.
Hein Vanhaezebrouck took out Bornauw and Trebel. Saief and Makarenko replaced them. Sporting increased the pressure and saw a header by Musona hitting the post. Goalie Van Crombrugge kept the 0 on the board by reacting well on a header by Sanneh. Still, the goalie was beaten by a header later on. Ivan Santini scored after a centre by Saief twelve minutes before the end. Mohamed Dauda had a good opportunity, but he was not able to put it in. Like that, RSCA lost for the third time this season in the competition.
Goals : 25' Garcia (1-0), 31' Toyokawa (2-0), 78' Santini (2-1)
KAS Eupen : Van Crombrugge, Keita, Lazare (82' Loties), Garcia, Marreh, Toyokawa (77' Essende), Blondelle, Gnaka, Bushiri, Molina & Fall (72' Ocansey)
RSCA : Didillon, Najar, Bornauw (46' Saief), Lawrence, Sanneh, Amuzu, Trebel (46' Makarenko), Kums, Gerkens (77' Dauda), Musona & Santini