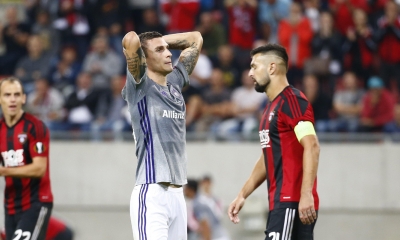 The first European challenge of the season was the away match at Spartak Trnava. There were not a lot of opportunities in the first half, which was dominated by the physical game of the home team. The best opportunity was one for Dimata, who was not able to finish off a centre by Amuzu.
The Purple & White were somewhat more dangerous at the beginning of the second half, they were also playing in the direction of the visiting fans now. The 0-0 remained on the scoreboard long, despite a shot on the crossbar by Amuzu and a good chance with a header by Bakos. Until Oravec changed that in the 80th minute with a header at the far post on a corner: 1-0 for the Slovakian champions. Also the final score, and not the result which we had in mind.
The other match in our group ended 4-1 for Dinamo Zagreb, at home against Fenerbahçe. Sunday at 6 p.m., Standard de Liège will visit het Astridpark.
Goal: 80' Oravec (1-0)
Spartak Trnava: Chudy, Kadlec, Chanturishvili, Grendel, Conka (51' Kulhanek), Godal, Toth, Bakos (87' Janso), Oravec, Rada & Jirka (64' Malecki)
RSCA: Didillon, Vranjes, Sanneh, Milic, Najar (64' Saief), Trebel, Kums, Amuzu, Musona (83' Gerkens), Dimata (83' Makarenko) & Santini