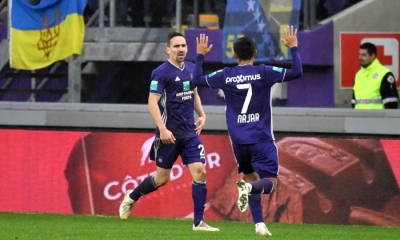 The Purple & White received AA Gent on the 15th matchday of the Jupiler Pro League today, Sunday 11 November. Hein Vanhaezebrouck was not able to count on the injured Sebastiaan Bornauw and Ognjen Vranjes, while Antonio Milic was suspended. Albert Sambi Lokonga and Mohammed Dauda were in the starting line-up for the first time this season. The match was kicked off by two former players: Sacha Kljestan and Bertrand Crasson.
The home team took the lead soon. After only four minutes, Sven Kums scored with a nice free kick. Gent tried to react, but the best opportunities were for the home team. Sven Kums took on Kalinic and Mohammed Dauda just missed. After thirty minutes of play, Birger Verstraete was sent off the pitch after a serious foul. At both sides, there was one great opportunity before half-time. A new attempt by Sven Kums hit the post, whereas a shot by Yaremchuks hit the crossbar. 1-0 after an interesting first half.
The second half started with a big opportunity for the Buffalos, but the shot by Yaremchuk went long. Anderlecht reacted fast, but Kalinic made a good save on a shot by, again, Kums. Fifteen minutes before the end, the ball did go in for Sven Kums: with a nice shot, he doubled the lead. This could have been increased even more, but Kalinic prevented Adrien Trebel and Kenny Saief from scoring. At the very end, the visitors were reduced to 9 players, after a red card for Plastun. The score remained the same: Anderlecht keeps the three points at home after a 2-0 victory over KAA Gent.
Goals: 4' Sven Kums (1-0) & 73' Sven Kums (2-0)
RSCA: Didillon, Lawrence, Sanneh, Makarenko, Najar, Dimata, Kums (81' Saief), Trebel (90' Saelemaekers), Dauda (58' Gerkens), Amuzu & Sambi Lokonga
KAA Gent: Kalinic, Souquet, Rosted, Plastun, Verstraete, Chakvetadze, Limbombe (81' Dompé), Yaremchuk, Dejaegere (75' David), Asare & Esiti (87' Andrijasevic)