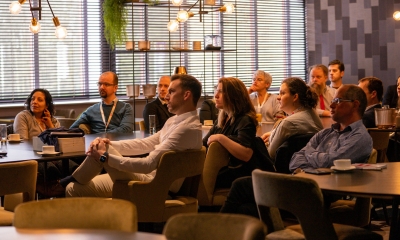 Around thirty managers from Belfius were present at Lotto Park on Wednesday to take part in a Leadership Day. Belfius regularly organizes such interactive sessions for its managers. The aim is to live in isolation for a week and discover the vision of Belfius on leadership. In this context, the employees visit a number of dynamic and interesting companies.
The managers present had the opportunity to attend two presentations in the stadium today. Kevin Vermeulen explained the importance of the ProSoccerData application within the youth academy. Then our CEO, Peter Verbeke, gave a presentation on the sports side of the club's business. After each presentation, time was taken for a Q&A-session. 
The visit ended with a pleasant lunch, which was preceded by a stadium visit accompanied by David Steegen.