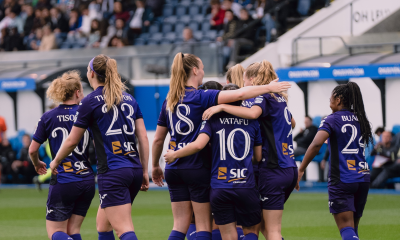 Last week, the RSCA Women won the 10th title in their history. To mark the occasion, our women's team will face KAA Gent at Lotto Park on Saturday 13 May at 13:30.
After the final whistle, fans will have the opportunity to attend the official Lotto Super League trophy ceremony.
As usual, season ticket holders can attend the match for free. Regular tickets are on sale for €5. Head to ticketing.rsca.be to book or to buy your ticket.
10 Belgian Super League titles. RSCA Women reached a historic milestone by beating OHL last Saturday at the King Power at Den Dreef stadion. After an eventful season, our ladies won the championship thanks to a few solid performances in the play-offs.
The 2022/23 season saw the emergence of Lore Jacobs, 18 years old and 18 goals this season. The experience of more experienced players such as Laura De Neve, Stefania Vatafu, Sarah Wijnants and Marie Minnaert also played a big role in our first star.
Don't miss a great day of football at Lotto Park and be there to watch the RSCA Women lift the trophy.