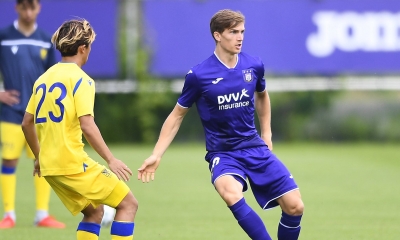 RSC Anderlecht's youngster Sieben Dewaele (02/02/1999) will be playing for the Dutch Eredivisie club SC Heerenveen this season.
Dewaele is considered to be a future starter for RSCA. In mutual consent with the player RSCA's sports management jugdged that this move will allow the player to gain experience in a strong competition and club.
"Our slogan 'In Youth We Trust' also applies to Sieben. Thanks to his versatility and intelligence, Sieben helped us at a young age in a difficult season. With a loan to the ever-performing Heerenveen, we now want to let Sieben play sufficient games in his best position so that he will come back stronger. We will closely follow up on Sieben consulting the sporting staff of his new club", said Peter Verbeke, sporting director of RSC Anderlecht.