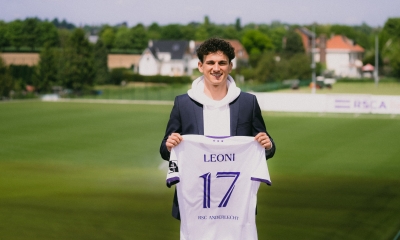 Théo Leoni remains loyal to RSC Anderlecht until 2026. The 23-year-old midfielder just signed a new contract for three seasons.
Théo is part of the 2000 generation. He has played in purple and white since the age of 12, meaning he has been playing for the club for over 10 years. As a true leader, he been captain of our U23-team for years. 
At his first contract extension, Théo was asked about his goals in 2022. He replied as follows: "I have two main goals. To qualify for the second division with the U23, and to make my debut with the first team." Théo can tick off both boxes: as their captain, he played 19 games for our RSCA Futures in the Challenger Pro League.
In October 2022, he also celebrated his debut for the first team in the game against Eupen. A week later, he was in the starting lineup for the first time at the Bosuil-stadium against Antwerp. A wonderful and well-deserved milestone for Théo. He will join the squad of the first team as soon as the preparation for the new season gets underway. As of next season, he will be playing with the number 17.
"Neerpede is like home for me. I'm very proud to sign for three extra seasons here."
CEO Sports Jesper Fredberg: "Théo is an example to all our youngsters in the Academy. He always puts the team and the club first. With hard work and the right mentality, he has had the patience to seize the opportunity when the time was right. Théo has technical qualities, vista and leadership skills. We're very happy that he's signed a new contract with us."