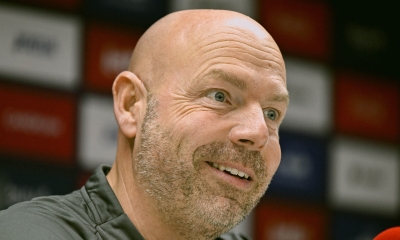 After a long World Cup break and the appointment of a new head coach, Royal Sporting Club Anderlecht resumes the season on Wednesday. First up is the crucial cup game in and against KRC Genk, also Brian Riemer's official debut as head coach at RSC Anderlecht. Our coach took a seat in the press room of the Lotto Park on Tuesday to preface his first game.
"This match is immediately a good test for us. We are playing against the best team of the season so far. The statistics speak for themselves: KRC Genk are already 20 games unbeaten, if you count the friendlies. So we will immediately be able to measure ourselves against a very good team."
"Whether the team is already physically ready for my playing system? We will see. We are in good shape, but it always takes some time when you change the style of play and have to implement some new elements. I'm not a magician: what we want to achieve here will take some time. But that doesn't exclude the fact that we want to take the necessary steps quickly and that I want to try to win every match."
"I've seen a lot of elements since I arrived here, two weeks ago. Of course, there are a few players who have only just returned from the World Cup and who I haven't been able to see that much in action. We are still in the early stages of what we want to achieve, tomorrow's game can teach us a lot in that respect. I don't expect everything to be perfect yet tomorrow, but I do expect a good performance, a lot of energy, and a team that will do everything to get us through in the Cup. I honestly can't wait for tomorrow."