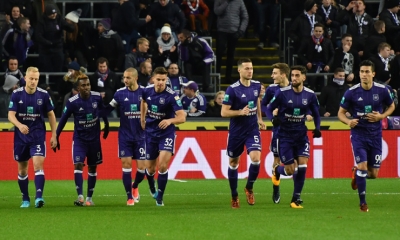 On the sixteenth matchday of the regular competition, the Purple & White took on KV Kortrijk. Coach Hein Vanhaezebrouck carried through changes to his starting line-up before the match against his former club. Frank Boeckx was in goal, Josué Sá took his place next to Uros Spajic and Olivier Deschacht in central defence. Lukasz Teodorczyk had his second and last day of suspension, Hamdi Harbaoui was allowed to start the game. Henry Onyekuru and Massimo Bruno – who would turn out to provide no less than 3 assists – were also in the starting line-up. RSCA won the game with a convincing 4-0 score.
The fans at the Constant Vanden Stock Stadium were not all in their seats yet when the first goal went in. The Purple & White pushed through, Yevhenii Makarenko scored an own goal with a header after only 40 seconds of play: 1-0. Kaminski prevented his team from falling behind 2-0 by saving an attempt by Onyekuru. Kortrijk reacted via Chevalier and Perbet, but they were both offside. The visitors managed to disturb the Purple & White attacks well, until the score was finally doubled. Massimo Bruno with the assist, Sofiane Hanni put the 2-0 past Kaminkski. The captain took another swing on a pass by Onyekuru, but he did not manage to score. Glen De Boeck's players tried to score, but never really threatened Boeckx. After thirty minutes of play, Onyekuru, on a pass by Harbaoui, came up with a nice bicycle kick, but it went long. After this, Bruno sent away Harbaoui, but the Tunesian striker was not able to finish it off. Right before half-time, Onyekuru was close to scoring again, but Kumordzi turned the attempt into a corner. Halfway through the match, RSCA was leading 2-0.
Early on in the second half, Sven Kums got injured, Adrien Trebel replaced him. After six minutes in the second half, Onyekuru passed the ball to Hanni, who nicely dribbled his way into the box. His shot, however, did not trouble Kaminkski. The next opportunity was one for Harbaoui, but his attempt hit the post. In the rebound, the striker just missed. After some fifteen minutes of play, the 3-0 appeared on the board. Bruno with the assist, and Adrien Trebel was able to confirm his strong substitution with a beautiful shot from the edge of the box. In the 79th minute, Bruno reached Hamdi Harbaoui with his third assist of the night, as a result of which the Astridpark was able to cheer for the fourth and final time of the night. On Wednesday, RSCA will receive Standard Luik in round 16 of the Belgian Cup.
Goals: 1' Makarenko (1-0, own-goal), 15' Sofiane Hanni (2-0), 72' Adrien Trebel (3-0) & 79' Hamdi Harbaoui (4-0)
RSCA: Frank Boeckx, Josué Sa, Olivier Deschacht, Uros Spajic, Pieter Gerkens (63' Dennis Appiah), Henry Onyekuru, Massimo Bruno, Sven Kums (48' Adrien Trebel), Leander Dendoncker, Sofiane Hanni (79' Robert Beric) & Hamdi Harbaoui