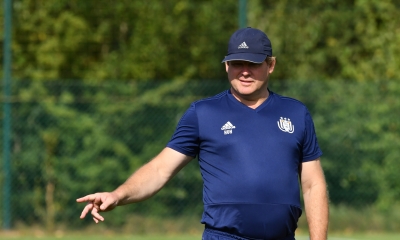 Hein Vanhaezebrouck talked to the press about Sunday's upcoming match against KV Oostende.
Whether the match with Oostende will be a special one for the president and players with a history at the club? "That does not change a lot for us. The game against Kortrijk was also a bit special for some of us who used to work there. But there are two sides to the story. Oostende has a coach who used to play for Anderlecht, the sporting manager used to play for us and was a coach here, and several players have an Anderlecht past."
The coach was satisfied with the team's achievement against KV Kortrijk. "The efficiency in the forward line, as well as the presence in front of the opponents' goal were higher than during the last season. We did not give away much either against Kortrijk, but unfortunately we did take a goal. It is important to keep the zero, but it is not the most important thing. It's like Johan Cruyff once said, you just have to score one more goal than the other team to win. But it is a fact that the more you can keep the zero, the more games you can win."
Tomorrow, the selection will be announced, but the coach already talked about Sven Kums and Andy Najar. "Sven is still recovering and will not be present. Andy is doing well with his convalesce, but a selection is still too early for him."
Because of technical issues, the Facebook Live of the press conference did not take place. We apologize for the inconvenience.