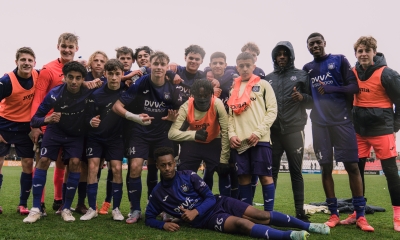 This Easter weekend, the Future Cup took place in Amsterdam. AFC Ajax, host of the prestigious U17 tournament, hosted seven clubs from around the world at the De Toekomst complex. RSCA finished third behind FC Nordsjælland (against whom they drew in the group stage) and Ajax.
After their group matches against FC Nordsjælland (1-1 draw), Paris Saint-Germain (3-1 win) and Chelsea FC (0-0 draw), coach René Peeters' team lost 2-0 to Ajax in the semi-finals after a very solid game.
In the small final, RSCA faced Juventus. Neerpede took the lead and dominated the match, but suffered an equaliser on stoppage time. A superb distance shot finally pulled the win over deservedly (2-1).
Neerpede thus finished third after five matches in three days in Amsterdam thanks to a strong collective performance. All RSCA matches at the Future Cup were broadcast live on Mauve TV. You can re-watch all matches and highlights there.
The players :
Azaouzi Nassim

Baouf Ismael

Barry Kaïs

Conte Aboubacar

Debondt Maël

El Afaki Fellah Naïm

Haentjens Michiel

Likebeli Nguikinde Steve Emmanuel

Luyckx Jef

Singh Daniel

Sylla Gassimou

Vandermeirsch Xander

Vereecken Luka

Vergeylen Lilian

Vroninks Basile

Waki Mohamed

Wola-Wetshay Ludovick
The staff :
Coach: Peeters René

Asistant: Haegeman Benoît

Physical trainer: Thémont Jérôme

Physical trainer: Duquesne Jean-Philippe

Keeper trainer: Verheyden Patrick

Physio: Vollon Tim

Physio: Vandervalle Fabrice