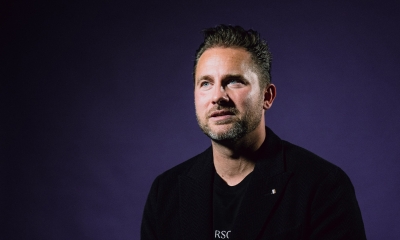 Jesper Fredberg has been appointed as the club's new CEO Sports. He already took a seat for his first interview, speaking about his transition to RSCA, the importance of the academy and building on the DNA of the club.
About his transition from Viborg FF to RSCA
"I've been blessed to work in some really good clubs and academies like Brondby and Aarhus in Denmark, Omonia Nicosia in Cyprus and Panathinaikos in Greece. In my career, I have worked as a youth coach, head coach, technical director, sports director and academy director. Over the past few years, I was the sports director at Viborg FF. We started in the second division and we had the oldest squad. But we changed the strategy and we got the club up to a really good position now. In that sense, it was the right time for me to leave Viborg, because it's in good hands and it now has strong foundations. At the same time, I see a massive potential in Anderlecht, and I see some similarities to Viborg. And of course, being able to come and work for a club like this, that's just an opportunity that was really difficult to say no to."
About the importance of the Academy
"I like to bring the best out of people. And that applies to football talents as well. I come from academies where I've been working with young kids but also with the best talents in Denmark. That has always been part of my philosophy. I don't just want to work for a senior team, the connection with the academy is really important for me. And that's where I think Anderlecht stands out. Neerpede is an institution that's renowned worldwide. That's not something we have to build from the bottom. That's a history, a culture that has been created for many, many years. The club has developed strong players that compete in Europe and for their national teams."
"And then of course, there's the history of the club. This is a proud club. It's the biggest club in Belgium, with a lot of history. And that's not something you can buy. That's something you earn. That's something you take."
About building on the DNA of the club
"I think there are a lot of good things happening already, and I see other things that we just need to reorganize a little bit. But everything is already in the DNA here, so we don't have to start from scratch."
"We're a club that wants to win. I like that we're not afraid to go out and say that we want to be the best. For me, that culture of winning is an important aspect."
"To obtain success, I think our playing identity is crucial. That's something the club needs to take responsibility for. When you are a club of this size, with these ambitions and this history, and when you have an academy with this massive potential, you also need to have a style of play that suits all that. We want to have an offensive mindset. And we want to create a pathway for our biggest talents. Because that is just such a big part of the DNA and the identity of this club."
"For me, it's about connecting all these dots and building layers upon it. Continuity and a clear strategy are vital. And strategy is also the style of play. How do we want to play football? How do we want to be recognized? If some day, we don't play with our jerseys, people still have to recognize Anderlecht, and say: that looks like an Anderlecht team that's playing. Whether it's an U12 team, our first team or the women's team."
About the next steps
"We need to be really clear about what we're expecting from our people. Because if the framework is clear, then it will also become much easier for us to recruit players, staff members, a coach if that is necessary. To create an environment where they can go all in and perform."
"Anderlecht should not be in the position where they are right now. I don't believe that's where they should be. So of course it's about bringing the club up in the league, to get the results. To get the belief that what we're doing is the right way to do it."
"We're looking into a transfer window that is coming really soon. We haven't performed in the way we were hoping to. But that's for me now to dive into. It's too early for me to go say 'we need this player or that player'. That would be unrespectful towards what we already have. But of course we're evaluating the squad, because we want to create the strongest team possible in order to reach our goals. And that is to create success. That's something that the coming weeks and months we'll dive into. That also goes for the style of play and the players we have. It's not something we can change overnight, or in the first window. This will come gradually, as well as from the academy."
"So of course in the short term, we need to make sure that we perform and that we take the right steps. But also in the long term, we need to look into how we want to build the Anderlecht of the future and how we can create sustainability. If we do all that, in the short term and long term, then it's difficult for me to see why we shouldn't have success. Because there are so many great aspects and key factors in this club that we already have. Now we just need to connect the dots. And that takes time. But it's something we'll start working on straight away. I honestly can't wait."