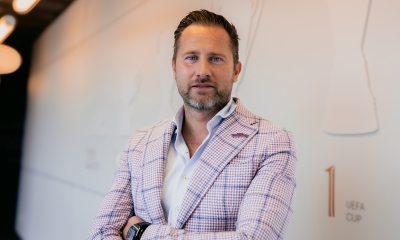 CEO Sports Jesper Fredberg has extended his contract at RSC Anderlecht. The 42-year-old Dane joined RSC Anderlecht in November 2022, after successful spells at clubs the likes of Viborg FF,  Omonia Nicosia and Panathinaikos. The Dane initially signed a contract until the summer of 2024. That contract has now been renewed to a long-term deal.
Since his arrival in November 2022, Jesper Fredberg has immediately made his mark at the club. Jesper installed a clear football philosophy, brought Brian Riemer on board as head coach of the first team and rebuilt the squad with no less than 12 new players in the summer transfer window.
Yet the job is anything but over, according to our CEO Sports. 
"A lot of challenges still await us. We are obviously very ambitious when it comes to our first team, but we will also continue to invest in the further development of our Academy, our infrastructure, our RSCA Women and in the many other crucial departments of this wonderful club. It's crucial for us, as a club, that we can further develop this performance culture and an environment where both players, staff and all other colleagues can thrive.
I am therefore very happy that we can continue our work together with the whole team. I have to say, I have felt at home here since day one and I greatly enjoy the unique culture that comes with a club like RSCA. I would like to thank all our colleagues, the other members of management and the president for the smooth cooperation and for their trust, as well as the fans for their unwavering support."
President Wouter Vandenhaute:
"When I opened talks with the - then fairly unknown - Jesper Fredberg a year ago, I was immediately struck by how firmly he believed in RSC Anderlecht's potential. In the many conversations afterwards, Jesper convinced me that he could be the man to take us back to the top. In last season's crisis situation, he showed his qualities and his burning ambition. After the successful summer transfer window, the conclusion was clear that Jesper sees his future in the coming years in Brussels. This contract extension is the logical result. Meanwhile, the cooperation between Jesper Fredberg, Kenneth Bornauw (CEO Non Sports) and the rest of the team is so solid that I am convinced that Royal Sporting Club Anderlecht will come back stronger than ever."