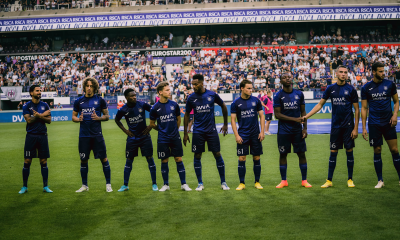 Developing young talent is absolutely crucial in the philosophy of Royal Sporting Club Anderlecht. There's an abundance of of players who got their chance with our first team at a young age and made their break-through (internationally) subsequently.
 This philosophy, embraced by the fans as 'In Youth We Trust', is more than a vague slogan. This is illustrated once again in the latest study by the CIES Football Observatory. The Observatory took a close look at data from 60 football leagues worldwide and calculated the number of playing minutes per age category in the first team.  
The study, which takes the current and previous season as a reference, shows that RSC Anderlecht is among the eight best teams worldwide when it comes to playing time for players under 21. A whopping 44.6 percent of playing time in that period was reserved for players aged 21 or under. 19.3 percent of the games went to players aged between 22 and 25 and the rest to players older than 26. As such, RSCA has an average squad age of 24.17, just outside the 25 youngest player squads in the world.
"This study underlines the unique character of RSC Anderlecht in Belgium and in Europe and the excellent work of our Academy at Neerpede. Recruiting young talented players like Sergio Gómez, Nilson Angulo, Ishaq Abdulrazak and Moussa N'Diaye will only reinforce this trend," said CEO Peter Verbeke. "This season again, we've taken a very conscious decision to give a lot of playing time to homegrown players like Julien Duranville (16), Noah Sadiki (17), Mario Stroeykens (17), Zeno Debast (18), Kristian Arnstad (19), Killian Sardella (20), Anouar Ait El Hadj (20), Marco Kana (20) and Yari Verschaeren (21). It is now up to them to take the next step, emerge as defining players and fight for success together."