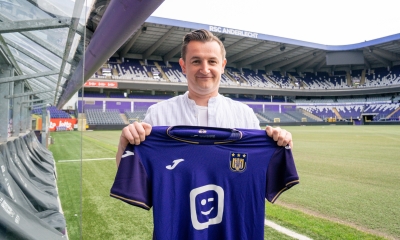 The RSCA Women will be preparing for the new season with a new coach, some targeted reinforcements and a solid long-term project. Thursday around noon, our new coach Dave Mattheus and players Marie Minnaert and Silke Vanwynsberghe were introduced at a press conference at the Lotto Park.
The season of the RSCA Women just came to quite the successful end with the fifth championship in a row and victory in the cup. The players are enjoying a well-deserved break, but behind the scenes the future of the RSCA Women is already being prepared.
Johan Walem had decided earlier to leave his position as head coach. His replacement is Dave Mattheus (36). Mattheus is a coach who knows women's football through and through. After a first season as coach with the U23 women's team at RSC Anderlecht, he left for KAA Gent at the end of 2013. After 2 seasons and as many titles with the U23 team, Mattheus was appointed head coach of the KAA Gent Ladies. There he managed to win 2 cups.
Mattheus has now made the move to Anderlecht, where he will also shape the new project of the RSCA Women off the field. He will focus on the development of academy players, the flow of young talents to the first team and the fine-tuning of the technical staff.
Mattheus: "After 8 years at KAA Gent I felt it was time to take it to the next level. RSC Anderlecht has been dominating women's football for years, but I was especially convinced after a conversation with the management about the future project. With the RSCA Women, we want to make the difference in Belgium, not only based on talent, but also with a professional backbone and the right guidance."
For CEO Peter Verbeke, it is important to have someone like Mattheus at the helm of the RSCA Women. 
"Of course we want to maintain our position at the very top of Belgian football with our RSCA Women, but there will also be more focus going to talent development and coaching. We want to extend the philosophy of RSC Anderlecht to women's football as well. One thing is for sure: RSC Anderlecht will continue to play a pioneering role in Belgian women's football."
Mattheus will be able to count on some targeted reinforcements. With the arrival of midfielder Marie Minnaert and Silke Vanwynsberghe, two Red Flames are added to the core. The club also extended the contracts of the current core and offered young talents such as Silke Speeckaert (18) and Jenna Van De Keere (21) their first contract.
The RSCA Women will start the preparation for the new season on 5 July. On 24 June, the draw for the preliminary rounds of the Champions League will take place and on 13 August the league will get underway.