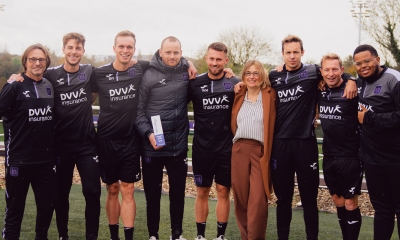 Together with Securex and Eleven DAZN, the Pro League elects a 'Manager of the Month', calling for the vote of football fans for their favourite coach. 
In August, our head coach of the first team Brian Riemer was elected by the fans. In September, Stijn Stijnen (Patro Eisden) won it. Now Marink Reedijk has been given the award as October's 'Manager of the Month'. The coach of our RSCA Futures won it from Alexander Blessin (Union) and Miron Muslic (Cercle Brugge).  
Our RSCA Futures have started their second season in the Challenger Pro League in August. In their first year in the second division, as many as 27 Academy players made their professional debuts. This season is the first under Marink Reedijk as head coach, who joined us from Vitesse in the summer. The Dutchman's staff also includes former player David Hubert and physical coach Hubert Lemaire. 
After a difficult start, our RSCA Futures managed to get 9 points out of 9 in the month of October, winning against Ostend, SL16 and RFC Liége. It is also the only team from the Challenger Pro League that has not lost 6 games in a row.  
Congratulations to Marink Reedijk, the entire staff and all the players of our RSCA Futures.