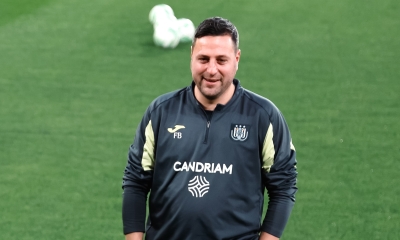 Against KAS Eupen this Sunday, Frank Boeckx will take a seat in the dug-out one last time as goalkeeper coach. For private reasons, Frank has decided to take a step back and will therefore no longer be part of the staff of the first team. The club and Frank are keeping the door open for a different collaboration in the future.
The club is already in talks with his successor, who should be joining the staff still this season. The club will communicate about his arrival in due time. In the meantime, a temporary internal solution has been found to ensure the coaching and guidance of the goalkeepers.
Frank Boeckx:
"It was a very difficult decision for me, as I fully enjoyed my work here and I have full confidence in the direction that this team and this club is heading. I have two teams that I love: Anderlecht and my family. My family needs me a bit more now. I want to thank the club for the wonderful experiences and I'll always keep rooting for Anderlecht."
CEO Sports Jesper Fredberg:
"Frank is a beloved figure within the club, given his history as a former goalkeeper for RSCA and his role in recent years with both the RSCA Futures and the first team. We have tried to find a solution to keep Frank on board, but we respect his wish and that of his family. We are very grateful for his commitment, and we hope to see him back soon."
Thanks, Frank.