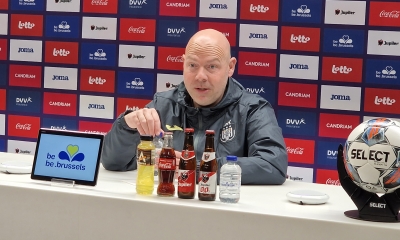 Back from the international break, Brian Riemer prefaced the game against Eupen on Sunday.
Brian Riemer started his press conference with some positive news on Islam Slimani, who went off injured during the game against OH Leuven (0-2 win). "He's already back on the pitch. Everything has progressed really well. He was treated well by the Algerian national team and came back immediately to us afterwards. He spent the whole international break with our medical team, so we're very happy that he was already back on the pitch this week. I will have to decide tomorrow in terms of the squad for Sunday."
"I also spoke to Yari Verschaeren [who's out until 2024 with a knee injury and underwent surgery on Monday] yesterday and the day before that. The operation was successful, so I told him that now it's all about looking forward. He's one of our own, he's still part of our team and we will keep him close because he's such an important part of our family. I reminded the other guys today about how lucky they are. These are moments where you have to stop in your tracks for a second and realize how lucky you are to be able to come in everyday and do what you love."
"I really think we have some good midfielders to replace Yari"
"In terms of replacing him: Yari has played almost every minute for me, he's been my talisman. So yes, it's a big loss for the team. But the good news is that players like Lior Refaelov, Kristian Arnstad, Majeed Ashimeru, Amadou Diawara have played a lot of minutes in midfield, I've also used Anders Dreyer in that position as well. We have Kana, who will play for the RSCA Futures on Friday evening but will still be available for the game on Sunday as well. So I really think we have some good midfielders and good quality to replace Yari."
Getting to the play-offs: that's the main objective now. "The only thing we can do is look at ourselves and make sure we get as many points as possible out of the last 4 games. I'm looking to climb up and reach the 7th position, that's my focus right now. I think we have a good chance to catch Standard. So my only focus is looking up and getting the win on Sunday against Eupen."