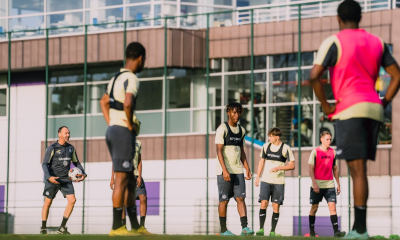 RSC Anderlecht has set up a new Academy structure. Mikkel Hemmersam will be appointed as Academy Director and will be joined by Henk Mariman as Academy Head of Football and Peter Verbeke as Academy Head of Talent & Innovation.
Academy Director Jean Kindermans previously announced that he will be leaving the club after this season to take on a new challenge in Belgian football. RSC Anderlecht wishes to acknowledge and underline the merits of Jean Kindermans, who has been at the head of our youth academy since 2006. Everyone at RSC Anderlecht would like to sincerely thank Jean for his commitment and wish him nothing but the best for the future.
Meanwhile, RSC Anderlecht has taken the necessary steps to ensure the proper functioning of the Academy in the short and long term. Therefore, a new structure is being put in place within the Academy, that will be elaborated even more in due course. With one goal in mind: to strengthen the Academy and prepare our young talents for a bright future.
As Academy Director, Mikkel Hemmersam will be leading the Academy together with several people with different expertise. Mikkel, who has been working at RSCA since June, was previously employed at clubs like FC Copenhagen and FC Nordsjaelland, playing a crucial part in the development of FC Nordsjaelland as a world-renowned ecosystem of youth development.

Henk Mariman will take up the position of Academy Head of Football. Henk spent the last 4.5 years as Academy Manager at OH Leuven. Before that, he worked at the youth academies of Ajax, Germinal Beerschot and Club Brugge, among others. He also gained international experience in his six-year spell at Double Pass.

Peter Verbeke returns to RSCA to become Academy Head of Talent & Innovation. Peter was sporting director and later became CEO of RSC Anderlecht between 2020 and 2023. Before that, he built up significant expertise in detecting and recruiting young talent at KAA Gent and Club Brugge. For the past 10 months, Peter worked as a consultant for Double Pass on projects for the Italian, Norwegian, Turkish and Swedish football federations.
CEO Sports Jesper Fredberg:
"First and foremost, the entire club would like to express its gratitude to Jean Kindermans for his work over the past 17 years. When it became clear that Jean Kindermans would be leaving the club, we started working on a new operational organization. I'm very pleased that with Mikkel, Henk and Peter, we have been able to assemble a strong foundation of experienced professionals with proven expertise and a passion for talent development. In the coming weeks and months we will hold additional talks, both internally and externally, to further strengthen our Academy."
"The development of young talents is essential to RSC Anderlecht's identity and strategy. In the past year, 14 Academy players signed a contract and 27 youth players made their professional debut. With Zeno Debast, Theo Leoni, Francis Amuzu, Mario Stroeykens, Killian Sardella, Kristian Arnstad and Yari Verschaeren, we have seven players made in Neerpede in our first team. Talent will always thrive here. With this renewed organization, we want to reinforce that ambition even more."
Academy Director Mikkel Hemmersam:
"The Academy is and will always be a crucial part of this club's philosophy. That is why I am very optimistic about the future and the challenges that await us. We will build on what is good and get to work on what can be improved. In the coming months, we want to continue building the future of our youth academy together and position RSC Anderlecht more than ever as the best environment for talent on and off the pitch."
"The appointment of Henk Mariman as Academy Head of Football provides us with extra experience and insight in youth development. Peter Verbeke will develop a scouting strategy that allows us to have young talents on our radar quickly. They both also convinced me with their desire to innovate in order to ensure that our Academy continues to be among the best."
Academy Head of Football Henk Mariman:
"It is quite an honour to help shape the future of RSC Anderlecht's Academy. With its central location, talented players from all parts of the country and its rich history of talent development, this is a unique club. The way a number of experts in their field are brought together within this project also appeals to me enormously. As Academy Head of Football, I will focus on the overall football vision, installing the necessary processes and ensuring the development and progression of both players and staff members."
Academy Head of Talent & Innovation Peter Verbeke:
"When Jesper and Mikkel got in touch to talk about the Academy structure, I was immediately appealed by the idea of devoting myself fully to scouting, recruitment and talent development again. By also placing the focus on innovation, we want to connect even more with the younger generations, in order to increase the appeal of our Academy for young talents even more."