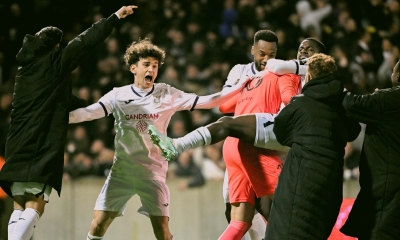 On Thursday night, Sporting played at the Lisp in the round of 32 of the Croky Cup. Robin Veldman made a number of changes to his starting eleven. Most notably, Bart Verbruggen started in goal, and Zeno Debast also got the captain's armband following his selection for the Red Devils earlier in the day. Furthermore, Adrien Trebel, among others, started in the starting line-up again for the first time since August. Majeed Ashimeru, Mario Stroeykens and Anouar Ait El Hadj got their chance as well.
Sporting started strongly and immediately created some good chances. Mario Stroeykens just failed to score in the opening stages after a cross by Francis Amuzu. That same Amuzu was pushed to the ground in the box just moments later, earning the Mauves a penalty kick. Fábio Silva converted the penalty flawlessly, shooting the 0-1 firmly into the back of the net. But Lierse resisted, and moments later it was 1-1 again. Serge Tabekou beat Bart Verbruggen less than three minutes after the opening goal. It did not stop there, however. On the stroke of half-time Mario Stroeykens received the ball in the box and managed to free himself with his back to the goal, scoring the 1-2 beatifully.
After half-time, goalkeeper Jarno De Smet had to make saves on Mario Stroeykens and Fábio Silva. Serge Tabekou forced Bart Verbruggen into a good save. A shot by Anouar Ait El Hadj went just over the goal after an hour, after which Ait El Hadj and Stroeykens made way for Benito Raman and Theo Leoni. Lior Refaelov and Amadou Diawara were also given minutes, substituting Francis Amuzu and Adrien Trebel. With ten minutes to go, Sporting looked set to secure the victory, but Lierse substitute Daan Vekemans decided otherwise. Out of nowhere he managed to go 1 v 1 on the goalkeeper, scoring the 2-2, Lierse - RSCA went into extra time.
That extra time had several chances in store for both sides, but neither team managed to score. And so penalty kicks would decide which team would advance to the round of 16 of the cup. The penalty series became a real thriller with no fewer than 18 penalties. It was goalkeeper Bart Verbruggen himself who kicked the redeeming 8-9 into the nets, thus securing the next round. RSCA will face KRC Genk away at the end of December. 
This was the penalty series:
Line-up Lierse K.
De Smet
De Schrijver P.
Pupe
(116' Gillekens)
Laes
(79' Brebels)
Walbrecq
(69' Vekemans)
Van Acker
Rocha
de Schryver G.
Schouterden
Raemaekers
Tabekou
(90' Jarno Libert)
Line-up RSCA
Verbruggen

N'Diaye

Delcroix

Debast


(105' Lissens)
Murillo
(105' Sadiki)

Trebel


(74' Diawara)

Ashimeru

Amuzu


(74' Refaelov)

Stroeykens


(63' Raman)
Ait El Hadj
(63' Leoni)

Silva