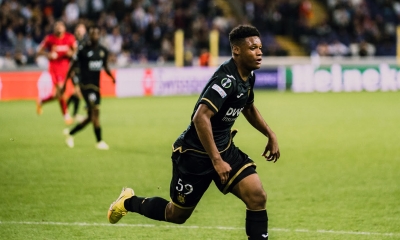 The 16-year-old winger has decided to leave the club after 10 years in purple and white.
Julien Duranville put on the purple & white shirt for the first time at the age of seven, growing  up in Neerpede as part of the talented 2006 generation. The winger, nicknamed "l'éclair", impressed with his lightning-fast speed and technical skills throughout every stage of our youth academy.
In May 2021, Julien Duranville signed his first professional contract at the club, tying him to the club until 2024. His first-team debut followed on 22 May 2022, coming on at Club Brugge on the final matchday of the season. In doing so, Duranville became the fourth youngest player in our club history. Only Nii Lamptey, Paul Van Himst and Romelu Lukaku made their debut in the first team even earlier.
'Juju' scored his first goal for the first team in the game against OHL in September 2022, on the same weekend where he had already scored for the RSCA Futures against RWDM in the Challenger Pro League.
For some time already, the club had opened talks with the player and his entourage to tie Julien to the club for the coming years. The club made every effort to offer Julien a future within the first team of purple and white, proposing a clear framework and trajectory. However, the player and his entourage preferred a move abroad. That has resulted in a permanent deal with Borussia Dortmund that offers the best solution for all parties.
CEO Sports Jesper Fredberg: 
"We're obviously sad to be losing a talent like Julien Duranville. Our ambition has not changed: that is to hand our own talented players their breakthrough in the first team and to give our fans the pleasure of seeing them at work. But given the specific circumstances regarding Julien, this is the best solution for the player and the club. Dortmund has an excellent track record in developing young talents as well, so after all we're pleased that Julien will be able to continue his development in such a good club."
Everyone within Royal Sporting Club Anderlecht, and in particular all youth coaches and all staff members who have contributed to the development of Julien Duranville over the last 10 years, wish him all the best in his future career. Julien will always remain welcome at Neerpede.