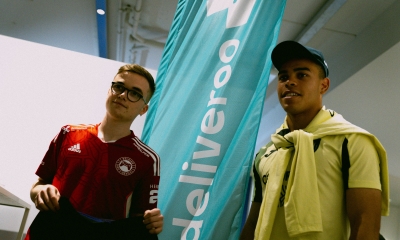 Sergio Gomez, Mario Stroeykens, Lucas Lissens and Chris Lokesa. Bryan MG, Arno the Kid, Loxley and Zak Bentato. Four RSCA players and four Belgian stars played FIFA 22 in the Lotto Park during the Deliveroo Fun Cup on Saturday 25 June.
The Deliveroo Fun Cup. What is it? It's a FIFA 22 tournament with four qualifying phases and an IRL final phase, which took place at the Lotto Park on Saturday 25 June. 8 players qualified for the final phase. Each of these 8 players could pair up with a RSCA player or an influencer.
In the end, it was the duo of Mario Stroeykens and a RSCA fan who won the Deliveroo Fun Cup. Mario and his partner in crime proved to be unstoppable and beat Zak Bentato's duo in the final.
The winner walked away with a brand new RSCA shirt, a RSCAV-version of FIFA 22 and €25 in Deliveroo credits. Thanks to Deliveroo, our fans were able to enjoy an unforgettable eSports experience in the Lotto Park. 
Well played, guys.