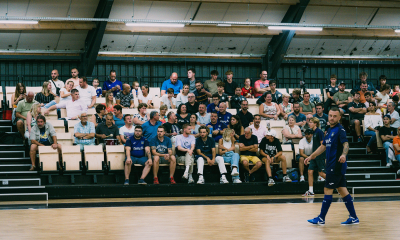 RSCA Futsal against SL Benfica. On Saturday 3 September, one of the best futsal teams in the world will travel to Roosdaal for a gala match. The match is included in the RSCA Futsal season ticket for the 2022/23 season.
On Saturday 3 September at 6 pm, RSCA Futsal will start its own history. Against SL Benfica, 8 times winner of the Portuguese championship and one time winner of the UEFA Futsal Cup.
It promises to be a memorable evening. Strenghtened by new transfers Maxi Rescia, Fits and Diego Roncaglio, this is a golden opportunity for Luca Cragnaz's men to show what the Mauve & Blanc can achieve on the futsal floor.
I AM A SEASON CARD HOLDER AND I WANT TO BE THERE
The gala match against Benfica is included in your season card. You can attend the match on presentation of your season card. You can  pick up your season card on site in Belleheide right before the Supercup match against Charleroi on 27 August or before the gala match against Benfica on 3 September.
I WANT TO GET MY SEASON CARD IN ORDER TO BE THERE
With the 2022/23 season card of RSCA Futsal, you can attend all home games of the Betcenter Futsal League, the Belgian Cup, the Supercup match and the Gala match against Benfica.
GET YOUR SEASON CARD FOR THE SEASON 2022/23 OF RSCA FUTSAL
I WANT TO BUY A TICKET FOR THE GAME AGAINST BENFICA
The online ticket sales for the gala match against Benfica is finished. You can still buy tickets on site on matchday.
Come on you Mauves!