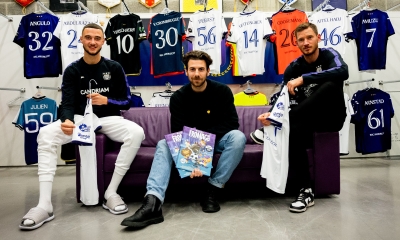 Once again, Sporting will be supporting 'De Warmste Week' and 'Viva For Life', the two biggest charity campaigns in Flanders, Wallonia and Brussels. The audio story 'Fromage' will be sold for charity and the shirts from the match against KRC Genk will also be auctioned.
De Warmste Week & Viva For Life
This year's 'De Warmste Week' is dedicated to underprivileged people.  Viva For Life fights against child poverty. Both campaigns are raising funds, and you too can help. Sporting will donate €5 per copy sold of the brand new audio story Fromage to  'De Warmste Week' and 'Viva For Life'. The ideal Christmas gift for anyone aged 6 to 106.
In addition, the match worn shirts from the game against KRC Genk in the Croky Cup will also be auctioned. The amount raised will also go to the two solidarity actions. 
MEEBIEDEN KAN VANAF MAANDAG 19 DECEMBER OM 15U
And then there's the Christmas Run, which RSCA is organising together with the municipality of Anderlecht on Wednesday 21/12. The starting point will be the Dapperheidsplein at 6 PM. Participants will run through the historic centre of Anderlecht as well as the RSC Anderlecht stadium. The registration money raised will go to the Viva For Life campaign.